Textile Engineering Professor Wins UNC Excellence in Teaching Award
Every year around Halloween, Melissa Pasquinelli's students debate the existence of ghosts. Are they manifestations of the energy that leaves the body upon death? Or are they impossible because they lack mass? The laws of thermodynamics support both theories, depending on students' assumptions.
It's the kind of questioning Pasquinelli likes to hear. The textile engineering professor comes up with challenges to encourage students to think critically about science, from debating ghosts to constructing a fabric bucket to carry water.
Now the UNC System has honored her efforts with the Board of Governors Award for Excellence in Teaching that recognizes "innovative and creative teaching methods and approaches which make a real difference in how students learn."
"I'm still surprised," Pasquinelli says. "And very humbled by it, but also very excited."
The Professor Is Also a Student
Pasquinelli's classes cover a range of topics such as computer-based modeling, sustainability and engineering thermodynamics. She's also the research team leader at the Laboratory of Multiscale Modeling from the Nanoscale. One of the lab's projects focuses on polymer degradation, or the breakdown of materials. The research has multiple applications, she says, such as removing plastic waste from oceans and landfills or creating outdoor seat cushions that last longer in the sun. She's also helping a colleague who makes medical textiles, such as sutures, to predict their degradation rates.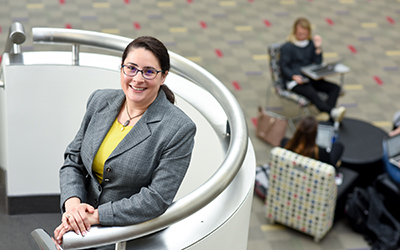 Accomplishing these goals requires educating new generations of textiles scientists and engineers who can apply their knowledge in other disciplines. Pasquinelli uses the strategy of "active learning." Students in her thermodynamics class are assigned an open-ended project in which they must choose a textile manufacturing process and then research ways to make it more sustainable. Pasquinelli monitors the projects in stages so she can keep track of them.
"I think that helps them feel they can take risks and challenge themselves," she says.
These techniques mean that sometimes the professor becomes the student.
"It's amazing that even though I ask the same questions every year in my class, I get different answers, and it just helps me see differently," she says. "When students ask a question you've never thought of, you have think about what the answer is. That's a really great learning opportunity. I learn quite a bit from my students, and I think that's one of the reasons why I enjoy teaching."
A Longtime Love for Teaching
Pasquinelli always wanted to be a teacher. As a little girl she tried to teach her dog the ABCs and assigned herself papers just so she could grade them.
She's also long been fascinated by science and knew she wanted to enter a STEM field. She graduated magna cum laude from Seton Hill University in 1996 with a degree in chemistry and earned her doctorate in theoretical chemistry from Carnegie Mellon University in 2002.
She pulls from her own experiences as a student now that she leads the classroom. A former professor who used male-based examples in his all-women chemistry class taught her the importance of knowing your audience. Her high school calculus teacher had students circle whether certain math statements are always, sometimes or never true, a tactic she uses in her thermodynamics class to challenge students' assumptions.
Her tactics have earned her other awards. She was recognized as an NC State University Outstanding Teacher in 2010 and was the College of Textiles nominee for the NC State University Board of Governor's award in 2012 and 2017.
Respect, Passion and Learning
The best parts of teaching are "seeing that light bulb go on for a student, when they're listening to you and all of a sudden they get it," Pasquinelli says. "Seeing what they come up with during class, their potential, when they do more than you even expect."
Those classroom projects can have real-world applications. A soft materials sustainability class project turned into a third-place winner in the 2012 Odebrecht Award for Sustainable Development. Students in other classes have collaborated with companies to improve manufacturing and other processes.
Success ultimately comes down to students' diligence, but Pasquinelli has advice for teachers to make the most of their role as classroom leaders.
"Earn the respect and trust of students as well as peers by being fair, firm and consistent," she says. "Never lose your passion, for teaching itself and also your discipline. And never stop learning."
This post was originally published in NC State News.